Meet the "Magic pouch", a super cool versatile pouch that can serve as a spacious pen bag, toiletry bag, storage or tray. Download the free pattern parts for a pouch in 3 sizes here and find out what you need.
December is present month and therefore high season for the true DIY'er. Non-time-intensive fun all-round gift tips always come in handy, and this 'magic pouch' really does fall under that heading!
A magic pouch, because almost completely made out of one piece, with a zipper that runs diagonally across the pouch. Once opened, you turn the zipper pouch into a tray, so done with grabbing to the right pencil, yarn or nail polish. The bag is also called 'cube' pouch, although we extended the 'cube' to a bar where you can put just a little more.
Just google on magic pouch, or cube pouch and you'll find some free tutorials, ideal! I tested it out, finetuned the pattern parts that you can download for free below and share the link to a super clear video tutorial.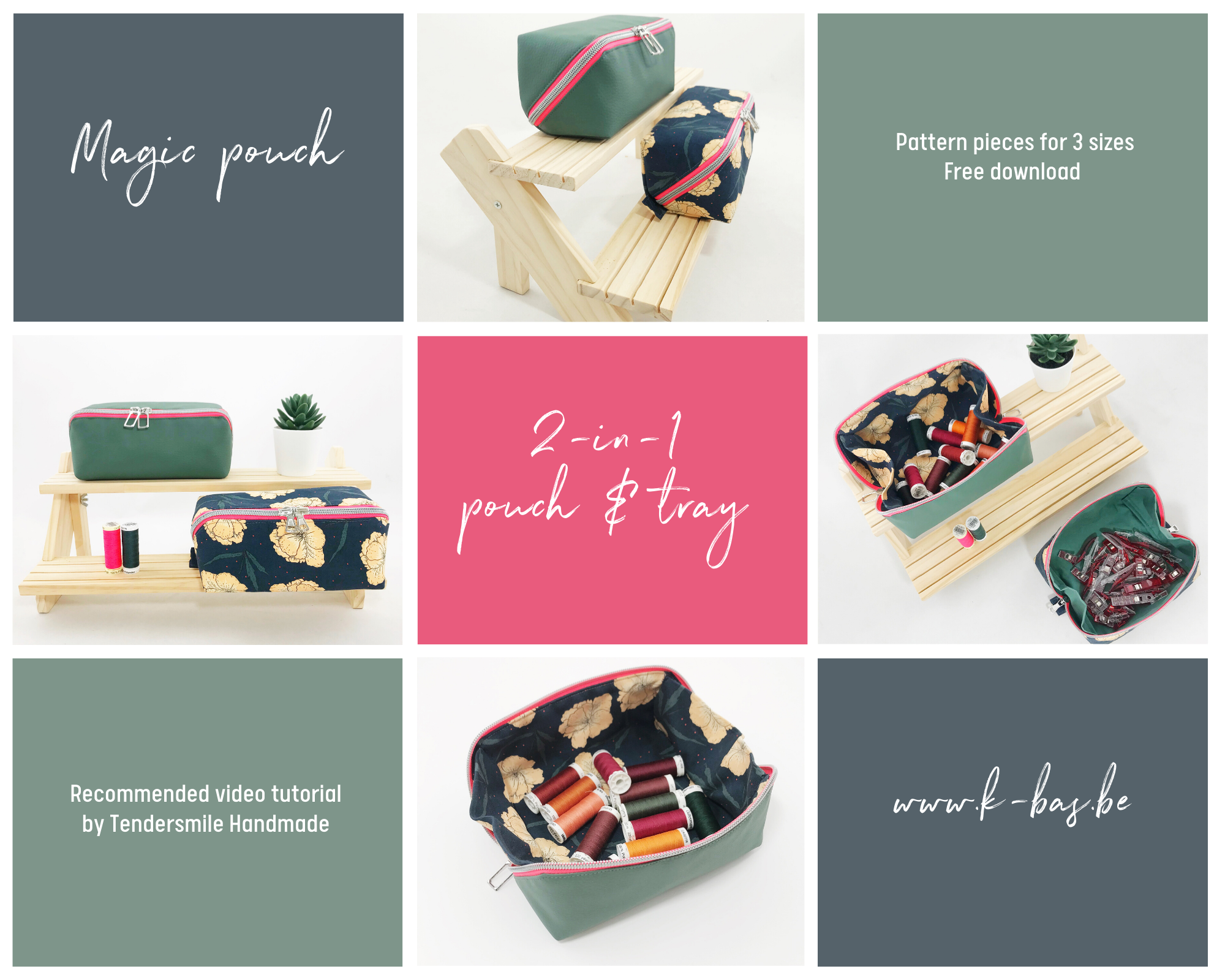 The PDF gives you 3 sizes to choose from: a small bar of 7 x 7 x 14cm (S), an intermediate (as in the picture) of 8 x 8 x 16cm (M) and a larger one of 9 x 9 x 18cm (L).
Video-tutorial: Tendersmile Handmade
Materials needed (S-M-L)?
Outer fabric (non-stretch: cotton, canvas, faux leather, cork leather, waxed fabrics...):

B x H : 32 x 29 cm - 36 x 33 cm - 40 x 37 cm

Lining fabric (non stretch, not too heavy: cotton, canvas)

B x H: 32 x 50 cm - 36 x 55 cm - 40 x 65 cm

Interfacing:
Coil zipper by the yard (ritstape of 32mm wide = 6mm-wide-coil = #5) + 2 sliders:
Tips & tricks
The pattern pieces that you can download here take into account the added width of the zipper. If you follow the video tutorial to draw your own pattern, then you have too much width. Not adding a seam value is also not an option, because then you are too tight.
Be sure to add the tabs. I took a shortcut with the first version and missed it to close the magic pouch conveniently.
Of course you can play with the bars to your heart's content. The side must always end in a square, otherwise the method is no longer correct, but narrower (a real cube) or wider is always possible.
Materials used for samples in the pictures: