Posted on
By Mieke Jansen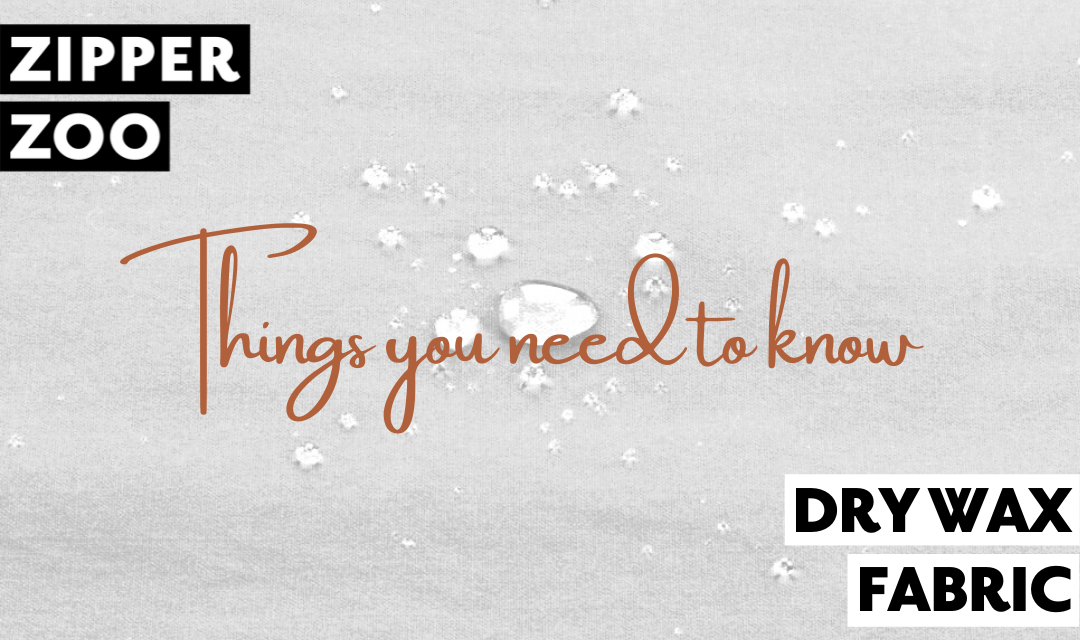 Dry wax fabrics are among our favorite bag fabrics: multi-purpose, durable, water-repellent. But how does this fabric differ from oilskin? And how do you best process it?
Zipper zoo Dry wax cotton
Dry wax fabrics are among our favorite bag fabrics....
Some assets:
Dry wax fabrics are water-repellent and therefore able to withstand changeable weather. Ideal, because a bag is not meant to be displayed in a shop window, right?

The basic fabric of our dry wax is very strong due to its high weave density, good for years of pleasure. The colors are deep and vivid.

The treatment gives them a certain stiffness, allowing you to save significantly on reinforcement material.

The fabric is at least 150cm wide, so even for a large bag, 50 to 100cm is often enough.

Our dry wax comes from the UK, consists of 100% organic cotton, with wax that is 100% biodegradable.
Dry wax versus oilskin
One wax is not the other....
In essence, both 'oilskin' and 'dry wax' are fabrics, usually cotton or linen, that have been treated to protect against water. Oilskin is the best known, originating from English fishermen who treated their work jackets with linseed oil. Later, other products were also used to improve the water resistance of fabrics. Examples include petroleum jelly, beeswax and paraffin. Each manufacturer has its own formulas which they obviously do not disclose.
With oilskin, the wax consists at least partly of oil, which can be felt as the fabric feels somewhat greasy. The oil saturates the fabric, giving it a darker color, and spreads easily over the fabric when used, giving the characteristic lighter stripes or "used look" through folds. Oil is also heavier, which causes the same base fabric to weigh more as a whole compared to the same fabric with another type of 'dry' wax.
The dry wax in our range has been treated with mainly paraffin and feels anything but greasy. This cotton weighs a lot less, feels much softer and retains its breathability. Less important for a bag, but all the more for a garment.  We don't see the "used look" as we know it from oilskin. The color remains even, even with folds. What we do see is a crease that remains when we press the fabric together. The paraffin provides a certain stiffness to the fabric.
Side note: Dry wax cotton is also often referred to as dry oilskin. As a language purist, I am a bit wary of the latter term, because I have never come across dry oil. Have you?
Do's and don'ts when processing dry wax fabric
Our dry wax is multi-purpose. From bag to coat, let's say, but keep in mind the following considerations:
Avoid iron-on reinforcement as much as possible. Reinforcement that serves to give shape to your bag can be relocated to your lining fabric.

If you do want to reinforce your fabric in certain places with adhesive interfacing, e.g. at the level of a press button or rivet, or smooth out disruptive pleats, you can do so BUT

Protect your fabric, ironing board and iron with baking paper. That way the wax will stay where it belongs, on the fabric.

Avoid steam at all costs! Steam and wax are not best friends. The wax reacts with the steam droplets and leaves unsightly marks which can no longer be removed. #beentheredonethat

The Zipper zoo dry wax has a high weave density. Therefore, it is best to use a microtex needle to minimize damage to the fabric. With its weight of 250 g/m² (about 7 oz/yd²) the fabric belongs to the middle class of bag fabrics: not thin, but definitely not very thick either. The fabric can be perfectly processed with a needle size of 80/12 or 90/14.

The high weave density in combination with the wax means that, in case you need to unpick, visible perforations are often left behind. The best strategy is therefore: do not make any mistakes. But if that doesn't work, try briefly ironing over the holes. This will allow the wax to spread more evenly again, and also make holes less visible.

The fabric looks the same on both the right and the wrong side. So which side you use as the outside is not important. This can be tricky with mirrored pattern pieces though. So be sure to label those parts so you don't accidentally end up with two of the same parts.

Washing can be done at 30°, with minimal detergent but do not put the fabric in the dryer. You may need to treat the fabric again with a dry wax afterwards to restore its water repellent properties.
Any more pressing questions? Feel free to ask them!